VholdR ContourHD Wearable Video Camera / Camcorder 1200 allows hands free recording of the most intense sports and many other activities. The Contour HD Video Camera records to an internal MicroSD memory card to capture up to 8 hours of 1280x720 pixel HD video at 30 frames per second (fps) in widescreen 16:9 format (compatible up to a 16GB Memory Card). The ContourHD by VholdR can also catch the fastest paced action in standard definition (SD) at 60 fps which is twice as fast as TV quality video.
Contour uses an advanced image sensor and video processor in the tiny ContourHD which are tuned to capture changing colors and lighting conditions. The Vholder Contour-HD features a wide angle lens that balances field of view with image quality. The Contour High Definition Video Camera records full audio with an internal microphone that cuts out wind noise.
Engadget recently featured a review of the ContourHD Wearable Video Camera, which states "operation is simple, with a pair of lasers helping you get the Contour HD aligned, a button on the back to turn it on, and a slider to start filming." The review also explains the ContourHD 's design is much more aesthetic than the competition, so it can be worn with pride.
The VholdR ContourHD uses a simple, large slide-button recording button to ensure an easy start and stop that you can use even while wearing Action Cameras. VholdR uses TRail Mounts technology to "slide and lock" onto different mounts for your Action Cameras, helmet, handlebars, vehicle, or anywhere else you want to mount it. The Armored water-resistant protective body is very light at only 4 ounces/116 grams of anodized aluminum, and ensures dust, dirt, mud, and snow will not destroy it. Finally, join the Contour online community and edit and share your videos with Easy Edit software for Mac and PC.
---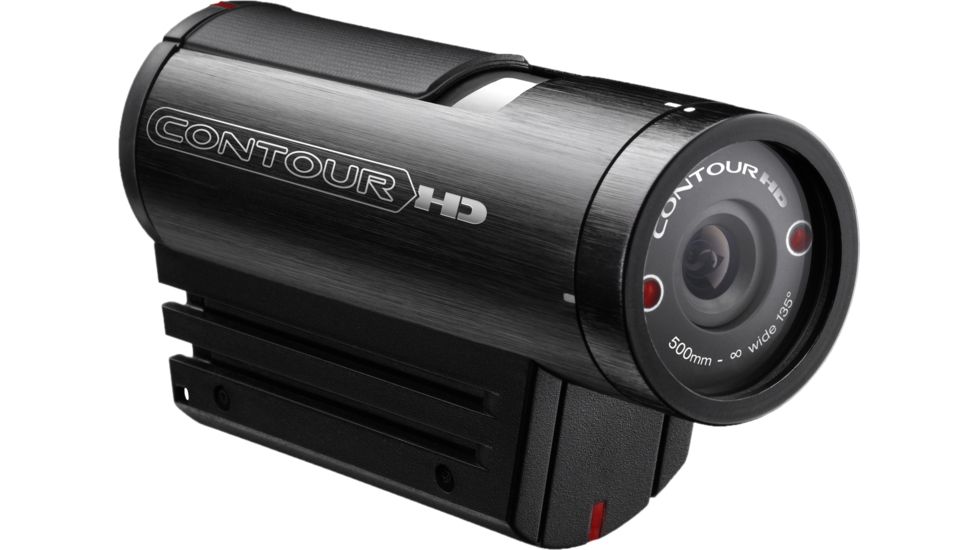 VholdR ContourHD Wearable Video Camera / Camcorder 1200
RATING
92 /100
Design

Excellent

Performance

Excellent

Value for money

Excellent

Feature

Excellent
Specifications for Vholdr Contour HD Camcorder:
| | |
| --- | --- |
| Resolution: | HD = (1280x720),SD = (848x480) |
| Frame Rate: | HD = 30 fps, SD = 60 fps |
| Field of View: | 135° (HD), 90° (SD) |
| Max Memory Card Size: | 16GB |
| Battery: | Removable Lithium-ion Battery |
| Battery Run Time: | 4 hours |
| Battery Charge Time: | 4 hrs (average) |
| Weight: | 4.2 oz (116g) |
| Alignment: | Lasers w/ Rotating Lens |
| Record Time: | Up to 3 hrs (HD & SD settings) |
| Codec: | H.264 (AAC audio) |
| File Type: | .mov |
| Editing Software: | Mac (10.4 & 10.5) & PC (XP & Vista) |
| Online Community: | Yes |
| Sensor: | 5 Mega-pixel CMOS Image Sensor |
| Audio: | Internal Microphone, AAC Audio Compression |
| Memory Type: | Removable MicroSD (SDHC compatible) |
| Memory Capacity: | 16GB (2GB included) |
| Zoom: | None |
| Dimensions: | 95mm L x 34mm W x 53mm H |
Features of VholdR ContourHD Wearable Video Camcorder:
High Definition recording
Standard Definition recording
Beautiful Outdoor Colors
Wide angle lens
Full audio capture
One Button Record
Easy alignment with lasers
Armored Body
Software to edit and share online
---
---